2014.07.24
[Updates]
27th TIFF to Open and Close with World Premieres of Two Blockbuster Movies, "Big Hero 6" and "PARASYTE"
Tokyo International Film Festival (TIFF) is pleased to announce that Disney's latest animated film, "Big Hero 6," has been selected as the opening film for the 27th TIFF. The live-action film, "PARASYTE," which was adapted from the world-acclaimed Japanese comic, has been selected as the official closing film.

"Big Hero 6" is the heartwarming adventure story of Hiro, a 14-year-old robotics prodigy, and a robot called Baymax. The film is set in the fictional metropolis of San Fransokyo (a combination of San Francisco and Tokyo).

"PARASYTE" is directed by one of Japan's best filmmakers, Takashi Yamazaki ("Always – Sunset on 3rd Street" and "The Eternal Zero"). The film was adapted from a Japanese comic by Hitoshi Iwaaki that was published in the magazine 'Gekkan Afternoon' from 1990 to 1995 and sold 11 million copies.

This is an exciting year for TIFF. Not only we will be showing films in two additional festival venues – Nihonbashi and the Kabukiza theatre in Ginza – we also will be focusing on animation, the most popular content in Japan. The highlights of this year's festival will be the world premieres of two blockbuster movies, one from Hollywood ("Big Hero 6") and one from Japan ("PARASYTE").

The 27th TIFF will be held October 23-31, 2014 at Roppongi Hills, TOHO Cinemas Nihonbashi, and other venues in Tokyo. TIFF's affiliated multi-content market, TIFFCOM2014 (Japan Content Showcase 2014) will take place October 21-23 at the GRAND PACIFIC LE DAIBA in the Tokyo Bay area.

<Comments from the Directors>
Don Hall & Chris Williams – Directors of "Big Hero 6"
We are thrilled to premiere "Big Hero 6" at the Tokyo International Film Festival; it is truly an honor to be selected as the opening film. The setting of our film, San Fransokyo, is a fictional, futuristic mash-up of two of our favorite cities in the world – San Francisco and Tokyo and the research we did in Tokyo informed every detail of the film. We look forward to bringing our film to this city that so deeply inspired us.

Takashi Yamazaki – Director of "PARASYTE"
We live in troubled times, and "PARASYTE" starts a conversation about how the human species will survive. I think it is significant that "PARASYTE" has been selected as the closing film for a major film festival like TIFF.

Opening Film
"Big Hero 6″ World Premiere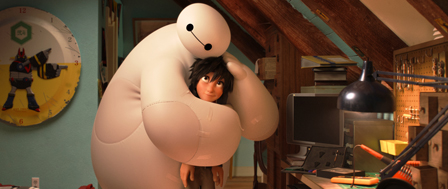 ©2014 Disney. All Rights Reserved.

Directors: Don Hall ("Winnie the Pooh"), Chris Williams ("Bolt")

Voice Casts: Scott Adsit (voice of Baymax), Ryan Potter (voice of Hiro), Daniel Henney (voice of Tadashi)

When a 14-year-old robotics prodigy Hiro loses his beloved brother Tadashi in an accident, he turns to a robot named Baymax, who was created to heal the human body and mind. Together, they embark on a great adventure.

The film will be released by Walt Disney Studio Japan on December 20, 2014.
Official Site:disney.jp/BAYMAX (Japanese Site)

For further information of closing film "PARASYTE", click here.