2014.12.06
[Updates]
In memoriam: Bunta Sugawara, Actor
Bunta Sugawara, the renowned Japanese actor passed away on November 28 at the age of eighty-one.

Tokyo International Film Festival had the privilege to screen his starred films in the past.

At the 1st Tokyo International Film Festival (1985) , "The Burmese Harp"(Director: Kon Ichikawa) was screened as the Closing film, and "The Yakuza Papers" (Director: Kinji Fukawasaku), "Fire Ball on Highway" (Director: Norifumi Suzuki) were shown as the "Japanese Films of Today" section.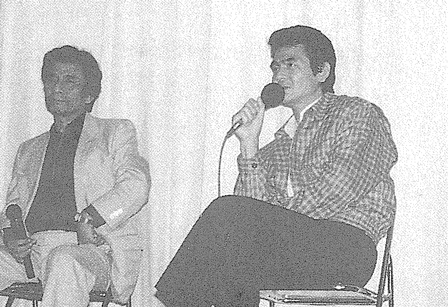 ©1985 TIFF
Director Norifumi Suzuki (left) and Bunta Sugawara (right)

At the 8th Tokyo International Film Festival (1995) , "Hibotan Bakuto : Hanafuda Shobu" (Director: Tai Kato) which he starred with actress Junko Fuji, was screened at the "Nippon Cinema Classics" section.

We pray that his soul may rest in peace.

Tokyo International Film Festival