2014.10.31
[Event Reports]
10/30 (THU) Event Report: Closing Film "PARASYTE"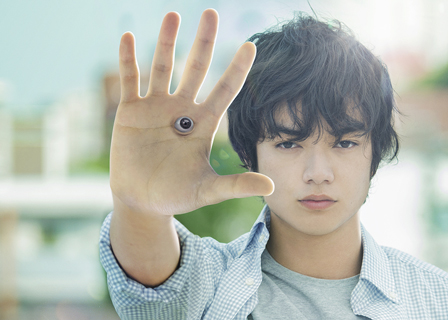 © 2014″Parasyte" Film Partners All Rights Reserved.

CLOSING FILM  "PARASYTE"

Tonight TIFF's Closing Film "PARASYTE" had its world premiere and the director and cast of the film made their appearance on stage. The followings are quotes from tonight.

■ Date & Time: October 30th (Thursday), from 18:30 @TOHO Cinemas Roppongi Hills
■ Appearance: Takashi Yamazaki(Director, Screenplay, VFX), Shota Sometani(Actor), Eri Fukatsu(Actress), Ai Hashimoto(Actress), Masahiro Higashide(Actor), BUMP OF CHICKEN (Special guest)

---
"PARASYTE" – Comments from the Director and Cast
Takashi Yamazaki (Director, Screenplay, VFX)
Thank you for joining us at the world premiere. The process of making this film was very long, and it was also a strenuous process completing the digital effects, so I am very glad to finally be able to bring this film to the audience. We set out to make the film pure entertainment, so we do hope you enjoy.
Shota Sometani (as Shinichi Izumi)
We're glad we've finally completed this film and we're so happy to finally bring it to you. It was quite a long shoot, more so than any other film I've been in, and we did bump into many walls along the way, but we've somehow managed to finish it. I hope you enjoy.
Eri Fukatsu (as Ryoko Tamiya)
I'm happy to see so many people in the audience tonight. It's an honor to be able to show this as the closing film for the festival, and I'm very nervous as it's the world premier for this film. We're showing it for the very first time, but I hope as many people can see it as possible. I hope you enjoy.
Ai Hashimoto (as Satomi Murano)
Thank you all for coming to see the film so soon at its world premiere! I hope you enjoy.
Masahiro Higashide (as Hideo Shimada)
It's hard to be objective about a film or drama you've been in, but I wholeheartedly enjoyed this film. I hope you enjoy too.
Q: We understand you're a fan of the original work. How did you approach adapting it into a film?
Takashi Yamazaki:
As you probably know, the rights were in the US for more than ten years. I had wanted to do, and was also looking forward to the Hollywood version at the same time, but I didn't hear of any talk about the project. Then I heard the rights were about to revert to Japan, so I voiced my wish to do it, and they let us. The original work is powerful and has much depth, so the pressure then dawned on us. I thought, "Oh no, we're really going to have to do this." It's full of entertainment – after all, you're going to see creatures whose faces split. It's a visual feast. But at the end, the story throws you such philosophical questions about mankind, and about motherhood. I wanted to be sure to have this depth in the film.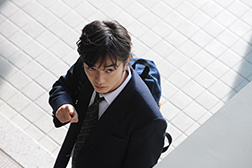 © 2014″Parasyte" Film Partners All Rights Reserved.

Q: The original manga is quite popular, and the story is interesting too. Can the cast each tell us how they approached their roles?
Shota Sometani: I was in awe to hear that Mr. Yamazaki was going to adapt "PARASYTE" into a live action film. I couldn't think of any works that were as enticing and also challenging as this one, so just hearing about the project excited me, and I'm happy to have been able to do it. In this role, I have to play against "Righty", which is a CG character, so I had to act against air. Of course, Mr. Sadao Abe does great work with Righty's voice and brings the CG to life. The acting was trial and error, and I had many discussions with the director.

Q: Mr. Sometani, you had to display not only emotion, but also a lot of action in the film. It must have been quite a challenging role.
Shota Sometani: I underwent a lot of training for the action sequences. It was not your normal action, though. I had to pantomime to fight, so that was surreal. But the role left room for us to imagine various possibilities, so that made it a fun process.

Eri Fukatsu: I read the original manga after I was offered the part. It was such an intense, wonderful piece of work, and I was completely drawn in. I went to speak with the director wondering why I was chosen for the part, but when I spoke to him, I could feel how attached he was to the original manga, and I felt grateful that someone so passionate wanted me for the role. I was so immersed in the role that I don't remember much now in retrospect, but I made sure that the acting was real – that it didn't look like I was trying to be a PARASYTE.

Takashi Yamazaki: Ms. Fukatsu was immersed in her role. So much so, that I felt hesitant to approach her on set. This was the first time I had worked with her, so I was fooled into thinking she was intense all the time, but when the shoot was over, she went back to being a gentle lady, which was surprising.

Ai Hashimoto: I also read the original manga only after I got the part, but it was so exciting and emotional to read. I instantly became a fan. This is my first time working with Mr. Yamazaki, but I was already familiar with the crew. It seemed like a very interesting mix to me, so I decided to come on board.

Q: How about you, Mr. Higashide?
Masahiro Higashide: I was originally a fan of the film, so when I got the offer I was elated. But actually doing it was quite challenging. The role requires a different kind of acting, so I prepared by doing a lot of facial expressions in front of the mirror. I did that a lot in the hotel where we shot. But it was fun.

Q: What was it like on set?
Masahiro Higashide: They were all like parasites. Not much talking, not much smiling, not much blinking. Ms. Fukatsu was very scary. She was that much into the part.


© 2014″Parasyte" Film Partners All Rights Reserved.

Q: Mr. Yamazaki, so it was the ideal cast?
Takashi Yamazaki: The casting went great. They were all people I had wanted to work with, and it was just so exciting to see them act against each other in these challenging roles. Seeing my favorite manga unfold in live action right in front of me made me very happy.

Q: How was it for our cast?
Shota Sometani: We had a lot of fun. The film doesn't fail to deliver the themes depicted in the original work. I think that's amazing. As soon as I finished watching the film, I couldn't wait to see the second half of the story. It was also an emotional experience to finally see Righty. I almost cried.

Q: We understand your pantomiming is quite a sight to see.
Shota Sometani: I used a lot of imagination doing that. There was one instant where I actually felt Righty inside me, when we were doing a certain emotional scene. I told the director "I think I just felt Righty now." He said, "You're losing your mind." That's how much I put into it.

Takashi Yamazaki: I never said that. I never said you were losing your mind.

Q: How about you, Ms. Fukatsu?
Eri Fukatsu: The original author, Mr. Iwaaki's words go straight to your heart. I think it's such a wonderfully strange story. I can't wait to see the sequel myself.

Q: How about you, Mr. Higashide?
Masahiro Higashide: I don't want to be too hyperbolic about a film I'm in, but I think this is a masterpiece. It will grab you.

Q: Do you think so too, Ms. Hashimoto?
Ai Hashimoto: I haven't seen the completed film either, but it was a hugely satisfying project to be a part of, and so interesting.

Q: Mr. Yamazaki, we've been hearing there was a lot of anticipation for the world premiere of this film. Your previous work, "The Eternal Zero," last year raked in 8.74 billion yen at the box office. Your "Stand by Me Doraemon" made 8 billion. With two successive hits, we can say you are Japan's no. 1 hit maker. How much do you think "PARASYTE" will make?
Takashi Yamazaki: Don't pressure me like that! Box office really depends on timing and luck. I just happen to be lucky with so much support from various people with my last two films. I really don't know how "PARASYTE" is going to turn out. But I do hope many people will see it.

Q: I think this film has a universal theme that is relevant for people around the world, no?
Takashi Yamazaki: That's because the original work is great. Just relax and dip in, then let it take you to further depths.

Q: Ok, we have another special guest. The musicians who's provided the theme song for this film. Let's welcome the members of BUMP OF CHICKEN!
Motoo Fujiwara(Vocal), Hiroaki Masukawa(Guitar), Yoshifumi Naoi(Bass), Hideo Masu(Drums)
Motoo Fujiwara: We're so honored to be standing on this stage!

Q: We understand the director is a fan of yours. How did you feel when you were offered the opportunity?
Motoo Fujiwara: We had heard that Mr. Yamazaki was planning to make this film and we were all very excited. And then the offer came in. We were very surprised. We were fans of the original work since we were teenagers, and also fans of Mr. Yamazaki, so it was great to be offered this job.

Q: When you saw the end credits against the music, how did you feel?
Takashi Yamazaki: It's a great adrenaline rush. We had to be sure the momentum was there for the audience to get ready for part 2, but BUMP OF CHICKEN did a great job. It's a song that sprints, so I see it as Shinichi's song. I hear this music and I think of Shinichi running through all this chaos, straight into part 2. They've created a good bridge. It's cooler than ever, and a perfect way to finish the film.

---
Also note that this is the first time the theme song "Parade" has been played in public. It's the song's world premiere as well. We would like to ask Mr. Yamazaki for a few words marking this event.
Takashi Yamazaki:
This is just the beginning of this film's voyage. There was much soul and sweat and toil put into this film from all of the people involved. If you like it, be sure to spread the word of mouth. Enjoy the cool music by BUMP OF CHICKEN. It's packed. Keep your eyes wide open. Thank you for coming this evening.