2014.10.30
[Event Reports]
10/26(SUN) Report: World Cosplay Summit Tokyo
Global Cosplayers Strut Their Stuff
[Report on World Cosplay Summit Tokyo, Oct. 26]



©2014 TIFF

They call Japan the Holy Land of Manga, so that makes the city of Nagoya the sacred birthplace of the World Cosplay Summit. Launched in 2003 to bring together manga, animé and video-game fans — who are legion, as we now know —the WCS has been building bridges and vast social networks ever since. Beginning with just four countries and helping give rise to the Cool Japan initiative, the event now attracts thousands of participants from around the globe.

The role-playing phenomenon, in which young fans expend considerable energies to make themselves over as their favorite animated characters, has morphed from a subculture into a predominant influence on global pop culture, especially fashion and advertising. Most cosplayers create their own outfits, and their skills are judged by how cleverly they've replicated certain details and materials (especially when creating robot characters), as well as their resemblance to the characters and their level of presentation.

For the first time this year, the World Cosplay Summit was held in Tokyo, coinciding with TIFF's new focus on animation and its tribute to animation superstar Hideaki Anno, creator of the post-apocalyptic Evangelion franchise. Under the flashing lights of an enormous Patlabor robot in the Roppongi Hills Arena, the top cosplay teams from 22 nations strutted their stuff in front of a savvy crowd, striking practiced poses and demonstrating several award-winning performances. For Japanese fans, the big surprise must have been that most of the teams were lip-synching to animé characters speaking in their local language, dubbing being a common practice with animation overseas.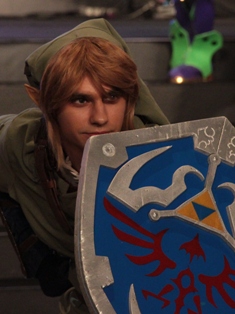 ©2014 TIFF

The 2014 champions from Russia, the spitting images of Link and Princess Zelda from The Legend of Zelda (video game), were particularly well received. With Hollywood-level makeup and costumes, Evgenii Polygalov and Stanislav Basov infused their reenactment with an unusual level of athleticism and grace, adding a touch of humor involving a red broom.

The Italian team of Nadia Baiardi and Luca Buzzi performed an ambitious Asuka and Eva03 death scene from Evangelion, explaining afterward that Luca had spent three years designing and fabricating his impressive robot costume.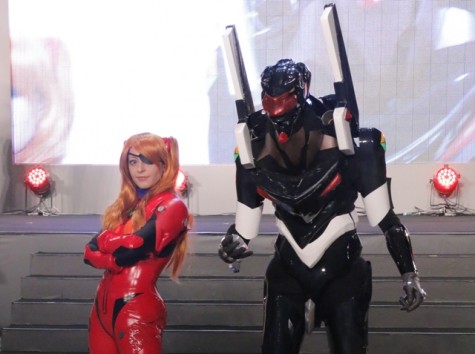 ©2014 TIFF

And the Indonesian duo of Gede Agus Dharma Setiawan and Ryan Anggoro Hadisaputro wowed the audience with an Evangelion robot vs. monster fight that ended with Eva01's rescue of Ayanami Rei from within the depths of Zeruel.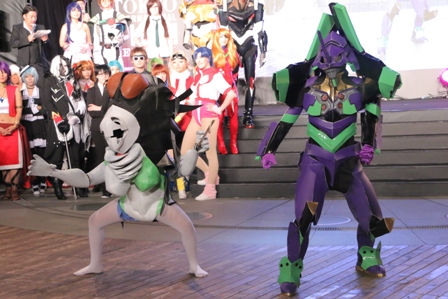 ©2014 TIFF

Between performances, some of the 44 cosplayers spoke briefly about their inspirations. "We started watching animation when we were 13 and 14," enthused Sorine Karlson of Denmark, who was portraying Asuka Langley Soryu, maid version, from Neon Genesis Evangelion. "Evangelion is so iconic, if you search online you can always find it."

Australian Luke Robinson, playing Lilith from Evangelion, said, "Animé is on TV in Australia, so I saw it when I was a kid and thought, wow, there's robots! And I still watch it all the time."

As the cosplayers took their final promenade around the arena, the speakers began blaring Pharrell Williams' Happy, and they suddenly stopped being other characters, and just became themselves — grasping hands, flashing V-signs, dancing and singing along to the infectious anthem of youth.