2014.10.31
[Event Reports]
10/30(THU) "Test" from Competition Press Conference
"Test" press conference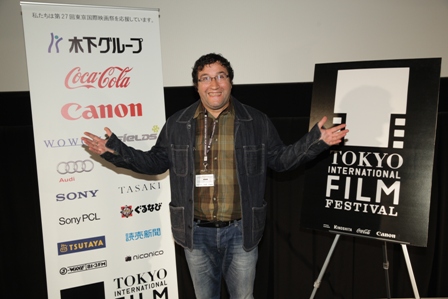 ©2014 TIFF

The Competition Section film "Test", written and directed by Russian filmmaker Alexander Kott, opens on an odd–and oddly beautiful–scene. A man lay on his back in the bed of a Soviet-era pickup truck, a live sheep acting as his pillow. The camera hovers high above, showing us not only this man in repose, but the empty space around his truck. We are on a vast prairie, and since Kott uses no dialogue or any other verbal indicators, you have to check the program notes in order to understand that the movie was filmed in Kazakhstan. It isn't entirely clear when the story takes place, but during the official press conference for the film Kott mentioned that he wanted a visual motif that conjured up "images of Soviet-era painting." He also described this man as having been "a pilot during World War II."

"My aim was to keep everything natural," he elaborated. "We could have used film stock but we decided to shoot digitally, and during post-production tried to maintain realistic colors."

The effect of this mix of naturalistic production design and highly contrived camera work is striking, and highlights the remoteness of the main character's home, which he shares with his teenage daughter. Their wordless relationship doesn't feel contrived, however. There's something about their rapport that transcends language. Every day she drives him in the truck to a fork in the dirt road that leads from their earthen house. She gets out and he takes the wheel, though where he goes every day we're not sure. The girl starts walking home, and invariably is intercepted by a young man on horseback who gives her a ride the rest of the way. He is clearly courting her, but it's difficult to tell from her passive expression if she wants to be courted.

"She's 14 years old," Kott said about the actor, Elena An, who plays the girl, Dina (though, again, you only know her name if you read the program notes). She is not a professional actor. "I didn't want one, because the character never talks, so there is no need to express oneself through dialogue. Everything is conveyed through facial expressions, and if she had 'acted,' it would have looked unnatural."

Eventually, another young man enters the picture, one who is more mischievous, even forward. He stops by to ask for some water and you can tell he's smitten with Dina immediately. He and the boy on horseback will vie for her attentions, at one point even getting into a wrestling match. Meanwhile, Dina's father, a former pilot, is growing sicker due to some unnamed affliction.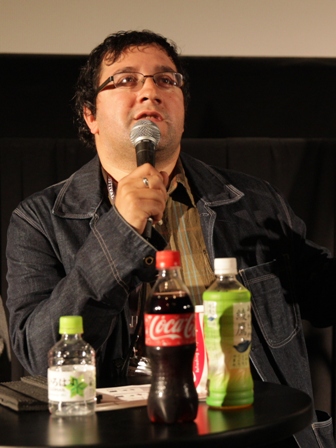 ©2014 TIFF

In the end, "Test" as the title implies, is less a naturalistic study of life on the steppe than it is a metaphor for…what, exactly? The journalists at the press conference tried to draw the director out, but he seemed reluctant to say what exactly it all meant, including the apocalyptic ending. All he could do was refer to his influences, including Mel Gibson's "Apocalypto" and the movies of Kaneto Shindo.

"We didn't have a screenplay," he explained. "Just a 3-page treatment that basically described the scenes. The movie was made through art direction and during the editing process. The cinematography also played a major role." The result is a very complete, very controlled film, a series of often startling images that represent a world view, but one that feels strangely specific to this particular place. It's also a movie that could only be appreciated on the big screen. "I didn't even think of it being watched on computers or cell phones," Kott said at one point. "Natural" needs a movie theater.