2014.10.02
[Updates]
TIFF 2014 presents Special Night Event at Kabukiza Theatre Ichikawa Somegoro to Present Special Kabuki performance

Held on Oct. 27! Tickets for "TIFF 2014 presents Special Night Event at Kabukiza Theatre" will be on sale from Oct. 3 thru Ticket Phone Shochiku and Ticket Web Shochiku !
*Please be careful that this ticket has different release date and selling route.

≪Ticket Information≫
——————————————————-
Admission with Makunouchi Bento Meal Box: 10,000yen (tax included)
——————————————————-
[Reservation]
◆Ticket Phone Shochiku (10:00 – 18:00)
+81(0)570-000-489 (Navi-Dial) or +81(0)3-6745-0888 / +81(0)6-6530-0333
Notes: Sales and ticket claim at the theater will be available from 10:00 am on Oct. 5.
Please be careful to dial the correct number.
◆Ticket Web Shochiku (at all hours except Oct. 3)
↓check the details of event below


The 27th Tokyo International Film Festival (TIFF) is pleased to announce that a Kabuki actor Ichikawa Somegoro, will give a Kabuki performance for our special event, "TIFF 2014 presents Special Night Event at Kabukiza Theatre", on October 27 during the festival to be held from October 23 to 31, 2014.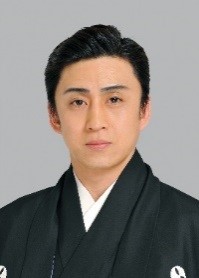 Charles Chaplin, the King of Comedy, whose love for Japan is well-known, was very much attracted to Kabuki and he actually visited the theatre. Chaplin was photographed with Matsumoto Koshiro Ⅶ, who is Ichikawa Somegoro's great-grandfather.
Considering this relation, Somegoro will give a special Kabuki performance of "Shakkyo (Stone Bridge)" and a talk before the evening's screening of Chaplin's "City Lights." 
This is the first occasion in our film festival history to hold a screening event at Kabukiza Theatre.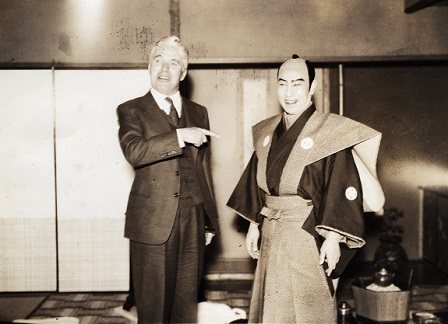 © Roy Export Company Establishment. Scan Courtesy Cineteca di Bologna
Chaplin visiting Kabukiza. The man next to him is Matsumoto Koshiro Ⅶ. (March, 1936)
Ichikawa Somegoro VII Kabuki actor / Yagō Acting House Name: Kōrai-ya
The first son of actor Matsumoto Koshiro Ⅸ. Somegoro made his stage debut at the Kabukiza Theatre in March, 1979, under the name of Matsumoto Kintaro III. He succeeded to the name of Ichikawa Somegoro VII in 1981 at October/November performances at Kabukiza.
Kabuki Performance "Shakkyo (Stone Bridge)"
A Noh performance of "Shakkyo" was created based on the myth that a sacred beast of a mythological lion-like animal appears to show good omen in sacred ground of Bodhisattva, Seiryo mountain in India. A number of Kabuki variations of "Stone Bridge" have also been created. "Shakkyo (Stone Bridge)" to be performed this time is a Kabuki dance featuring the spirit of the lion. The heroic mane swinging and energetic choreography are some of the highlights. The music that intertwines singing and traditional instruments also adds charm.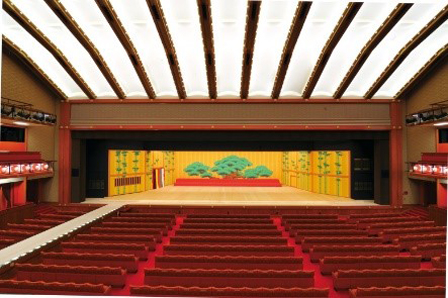 ©SHOCHIKU
inside of Kabukiza Theatre
≪Outline of the Special Night Event at Kabukiza Theatre≫
Date: October 27, 2014
Doors open: 17:45-
Start: 18:30-
Program:
-Kabuki Performance "Shakkyo"
-Intermission: Audience will enjoy a Makunouchi Bento Meal Box*1
-Talk
– screening "City Lights" 
City Lights © Roy Export S.A.S. All rights reserved.

*1 Makunouchi Bento Meal Box
For the occasion, we'll redesign Makunouchi Bento Meal Box which was remarkably popular in Meiji period (1868-1912) when Kabukiza theatre was founded, for guests to enjoy Japanese cuisine culture which won UNESCO cultural heritage status. Makunouchi means intermission.