2014.09.26
[Event Information]
10-Meter AV-98 INGRAM from PATLABOR is coming to the 27th Tokyo International Film Festival (TIFF)!
As announced earlier, "THE NEXT GENERATION -PATLABOR- episode10" will be shown in Special Screening Section at TIFF.
With Mamoru Oshii as general director, the legendary animation "Mobile Police PATLABOR" emerges as a huge live-action project consisting of one feature film as well as seven stand-alone chapters in a series format. This feature film is going to be the very first Japanese film which is shot in 4K and Dolby Atmos.

There is another way to enjoy the world of PATLABOR – 10-meter tall life-size model of AV-98 INGRAM and many other props have all come to life at TIFF! The AV-98 INGRAM will be raised from his sleeping position and stand upright at Roppongi Hills Arena a few times a day from October 24th to 31st. The director and casts are coming to Roppongi Hills Arena for the "first rise" event.

Along with "THE NEXT GENERATION –PATLABOR- episode 10" from the series that portrays a battle between Labor robots, special footage from the feature film with commentary by Mamoru Oshii will be unveiled on screen for the first time ever at TOHO Cinemas Nihonbashi, which is the new venue of TIFF. There will also be an all-night screening of episode 1 to 4 at TOHO Cinemas Roppongi Hills from 10:45 pm on October 24th (Fri).
*Please note that all-night screening will be shown with no English subtitles.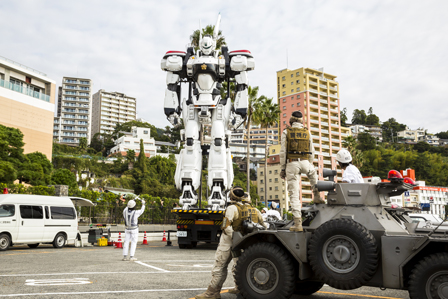 ©2014 HEADGEAR/"THE NEXT GENERATION -PATLABOR-"PARTNERS