2014.10.07
[Event Information]
Preliminary lottery application open from Oct. 8 (Wed.) 12:00! 10/24(Fri)@EX THEATER ROPPONGI / John Lasseter speaks about the theme of "Cool Japan"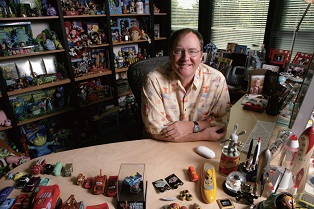 *Application is open from Oct. 8 (Wed.) 12:00 to Oct. 13 (Mon. holiday) 23:59, 2014. 
*Registration to ticket board is necessary (charge free)

Mr.John Lasseter, the Chief creative officer at Pixar, Walt Disney Animation Studios, and DisneyToon Studios talks about his favorite Japanese animation as well as Japanese culture. Look forward how the attraction of Japanese animation and culture seen from world perspective is presented.

Event title: The 27th Tokyo International Film Festival holds a special event John Lasseter speaks about the theme of "Cool Japan"
Guest: John Lasseter
Date:Oct. 24 (Fri.), 2014 Open:16:20 Start:17:00
venue:EX THEATER ROPPONGI
Access

*Admission-free program (preliminary lottery)
*unreserved seats
Applyhere

Notes:
*The preceding is a lottery accepted. It is not possible to seat selection
*You may apply once for a free ticket
*Multiple application is needed for those who wish to attend in groups.
(e.g. in case of 4 members : each needs to register on ticket board → apply from each account.)
*Ticket winners are chosen by lottery
*On your note, please apply sufficient screenings date and time
*We do not accept a change, cancellation, refund, etc. after purchase, after an application
*There is a case to change without notice schedule
*You will need a ticket from 3 years of age or older. However, the ticket is required if seats are needed in three years.