2014.10.25
[Event Reports]
"The Next Generation PATLABOR" Life-size AV-98 Ingram Deck-up Arena Event on October 24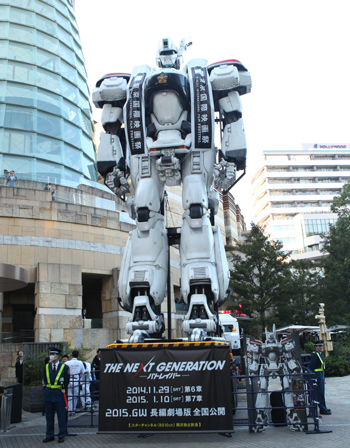 ©2014 TIFF
There is a lot of anime and sci-fi at TIFF 2014, so it's only appropriate that it pay tribute to PATLABOR, the long-running sci-fi series that, since 1988, has encompassed animation, comics, "light novels," and live action TV series. The idea will finally reach its cinematic fruition as a full-length theatrical movie, but not until May 2015. Still, that didn't stop the producers from making a big deal of it on the first full day of events, with a special presentation at the Roppongi Hills Arena packed with press and fans. The nominal event was the "unveiling" of a full-size PATLABOR robot in the Roppongi Hills plaza, which was about ten meters tall. But the real reason was promoting the next chapters in the PATLABOR saga.

To the uninitiated, PATLABOR is portmanteau for "patrol" and "labor," and describes a kind of special police force set in the near future that administers the robots who perform much of Tokyo's construction work. These robots are controlled by humans who sometimes indulge in extralegal activities, and it is the job of the PATLABOR, which also consist of robot personnel, to make sure they stay in line.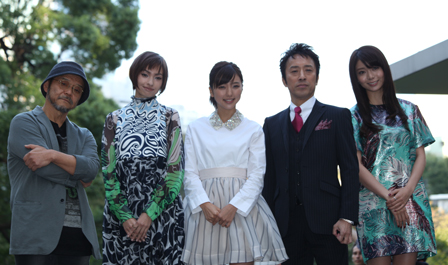 ©2014 TIFF

Celebrating its 25th year as a franchise, the series presented four members of its latest cast and the director, Mamoru Oshii, who is more famous in the West for the "Ghost in the Shell" series, but it's PATLABOR where he cut his teeth. Unlike the cast members on stage, Oshii was dressed in typical otaku mufti: jeans, T-shirt, hiking boots, floppy hat. While the cast effused about how excited they were to appear in such an important sci-fi series, Oshii merely mentioned how fortunate TIFF was "that it didn't rain today." That's the way a director thinks: logistics.

It was announced that Episode 6 would be out on disc in Novermber and Episode 7 in January, but obviously the big news was the theatrical feature. The cast promised "lots of female fighting," implying that the women on stage would be battling it out in classic anime style. Rina Ota, who plays the Russian character Kasha, said that almost all her scenes were "action scenes" and that they would definitely not disappoint.

The cast and Oshii moved over to the plaza in front of TV Asahi as the purposely dingy white robot was "erected" from a flatbed truck to full size, to the delight of the crowd. Though the mute figure had nothing to add to the proceedings, except a sense of futuristic purpose, it definitely dominated the scene after it appeared upright. Sometimes an appearance is all you need.

THE NEXT GENERATION -PATLABOR- episode10