2014.10.27
[Event Reports]
10/25(SAT) Pale Moon from Competition Press Conference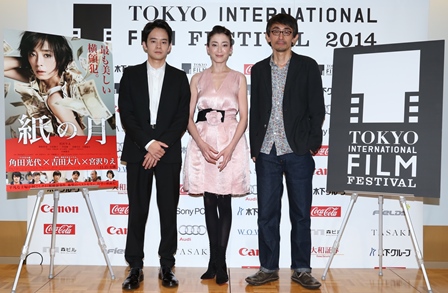 ©2014 TIFF
BUYING HER WAY TO HAPPINESS
[Report on Competition film "Pale Moon" press conference, Oct. 25]

The sole Japanese film in the TIFF Competition Section this year, Pale Moon brings together four sizzling hot properties: director Daihachi Yoshida, stars Rie Miyazawa and Sosuke Ikematsu, and author Mitsuyo Kakuta, whose best-seller — about a meek housewife who transforms into a master embezzler — is the basis for the film.

Adapted from Kakuta's novel by TV writer Kaeko Hayafune, and reportedly inspired by actual events, the film follows 41-year-old Rika (Miyazawa), who toils in a drab bank, feels neglected by her smugly satisfied husband, and starts an unlikely, but increasingly obsessive, affair with a university student, Kota (Ikematsu). The experience eventually liberates her from the tedium or a routine existence, but also brings about her downfall. Or does it? The film is purposely unclear.

Speaking at a TIFF press conference prior to the world premiere screening, Yoshida, whose first three films (Funuke Show Some Love, You Losers!, The Wonderful World Of Captain Kuhio and Permanent Nobara) won him a solid global fanbase and multiple awards, and whose 2013 The Kirishima Thing was a sensation, winning three major Japan Academy Prizes, joked that he was delighted to be in competition, but warned, "I don't like to lose." More seriously, he added, "To have the opportunity to be in an international setting like this, to hear reactions from around the world, I'm really looking forward to that."

His stars lauded the director's "uncompromising" approach to filmmaking, and Ikematsu (Love's Whirlpool, the upcoming Vancouver Asahi) also noted, "I've worked with many actresses over the years, but never one who committed herself so wholeheartedly to a film." Miyazawa, known for nuanced performances in Yoji Yamada's Twilight Samurai and Jun Ichikawa's Tony Takitani, was clearly pleased to be back in the limelight after seven years spent primarily in front of the footlights. She explained that she had turned to theater because "I set a goal to become a better performer by the time I turned 40. When I turned 40, and this film offer came to me at exactly the right moment."

Yoshida said immediately, "That's the first I've heard it was just 'good timing.' I knew she'd worked with great directors like Yukio Ninagawa and Hideki Noda, so I offered the role to her. When she accepted, it was a confidence booster. Now I find out it's only because of the timing." Miyazawa hastily reassured, "It wasn't only good timing."

Timing is important to Pale Moon, which is tellingly set in 1994, when Japan was just beginning to feel the onset of the recession yet still boasted one of the world's highest household savings rates. It probes the nation's fraught relationship with money through Rika, a typically frugal householder (she celebrates her raise at the bank with a bland set of "pair watches" for herself and her husband, who promptly one-ups her by buying her a Cartier model).

But her relationship with Kota changes all that. The affair is marked from the beginning with familiar older-man-younger-woman tropes, only the roles have been reversed: in exchange for the sex and companionship, Kota earns pricey restaurant meals, shopping sprees, weekends in luxury hotel suites at eye-popping prices, and eventually, a gorgeously appointed apartment. Rika's savings don't begin to cover such expenses, of course. She has begun to siphon off some of her clients' investments, and quickly masters the craft of embezzlement.

The film features excellent supporting performances from Yoshimasa Kondo as Rika's boss, who harbors a few secrets of his own; Renji Ishibashi as a client who inadvertently sets in motion both the affair with his grandson and Rika's embezzlement scheme; and best of all, Satomi Kobayashi (Tokyo Oasis, Mother Water) as a spinster senior colleague who watches over the back office operations of the bank — and its sticky-fingered bankers — with an eagle eye. She figures out what's going on, but for once, doesn't follow the standard operating procedures.

Ikematsu, always superb, shades his boy toy so his real intentions are impossible to decipher. But through it all, Rie Miyazawa owns Pale Moon. Playing a complex antihero who shows no remorse, there's no doubt the actress has catapulted herself onto all the Best Actress short lists.