2014.10.27
[Event Reports]
10/26(SUN) The Connection from Competition Press Conference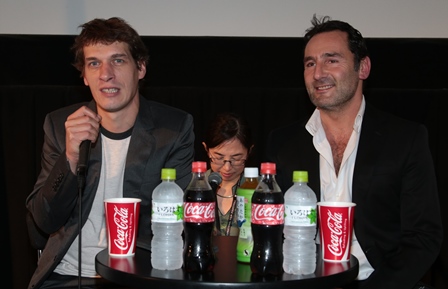 ©2014 TIFF
Breaking a Drug Ring – The Connection

The Connection follows the true story of the battle between police magistrate, Pierre Michel and drug kingpin, Tany Zampa in Marseilles during the 1970s. This is the famous "French Connection" that was responsible for heroin distribution throughout the world. Jean Dujardin gives Pierre Michel the relentless drive and obsession that allows him to break the criminal organization controlling the drug business, but at a huge price. Gilles Lellouche gives a monstrous coolness to Michel's calculating nemesis. Their differences and similarities make them flip sides of the same coin. Director Cédric Jimenez and Gilles Lellouche came to Tokyo for the Asian premiere.

Since The Connection is based on the lives of real people, many of them still living, Jimenez was asked if he felt any particular pressures in depicting them on screen.

He responded, "I didn't feel much pressure, but I did feel responsibility because I needed to respect the lives of the actual people who existed. And I thought it was important that I shouldn't betray those expectations. Because I'm looking at history from a director's perspective I needed to pay attention to detail to fulfill that responsibility. And because I'm making a particular interpretation I need to be careful not to betray any expectations. "

Gilles added his feelings about playing a famous criminal. "Yes, I did feel some pressure, because when I was playing this role I thought about his wife and his children. I tried not to make this person too pretty and I stuck to playing the truth. And I met with his friends. I also met with the judge and the police. Combining all that I created the role. So instead of having the responsibility to what was being said about him, I was more pressured about caring for the feelings of his family, because I didn't want them to suffer any more."

The Connection plays out like a classic policier, but has a more modern look. It starts off looking like it's something from 70s cinema – long shots and telephoto lenses – but soon moves in close with hand-held shots.

Cédric explained his shooting strategy. "I wanted to have the audience be able to live within the film. I wanted to use a hand-held camera so the audience could feel more close to those roles in the film. Classic 70s films tend to have more distance. I didn't want this film to have so much distance. I wanted to avoid the filter between the audience and the film. I also wanted to have the camera be able to catch up with the movement of the action so I could make the film more vibrant."

When asked about working with Jean Dujardin, Gilles explained, "I've starred in different films with Jean Dujardin. This is the third film that I've worked in with him. In our previous film, Les Petits Mouchoirs, there weren't any scenes where we appeared together. Though we appear in many scenes in this film, The Connection, each of the scenes was shot on different days. So maybe he was filmed on Monday and I was filmed on Tuesday. We might not have known what scenes were shot. The one scene where we meet is our confrontation scene. If we didn't know each other, it could have been easy. But had built up a very close relationship. It made it difficult to confront each other in that scene. It actually ended up working well, because we decided that we should become enemies for eight hours and we didn't even look at each other or talk to each other. And we just stopped being friends during the shoot. We ended up having to see a shrink after that."

Finally, Cédric talked about his very personal connection to the story.

He revealed, "I was actually born in and grew up in Marseilles. Also my father was the owner of a restaurant and a nightclub. And it was almost next door to where Zampa lived. We had always known their family. I have also always wanted to tell this story – because the story is so interesting. I also wanted to celebrate the city of Marseilles."

Cédric's celebration shows a dark side of Marseilles' history, but it's done with love and respect for a very particular culture that's developed in France's great city on the Mediterranean.