2014.10.29
[Event Reports]
10/28(Tue) The Lesson from Competition Press Conference
A DEDICATED TEACHER LEARNS SOME PAINFUL LESSONS
[Report on The Lesson press conference, Oct. 28]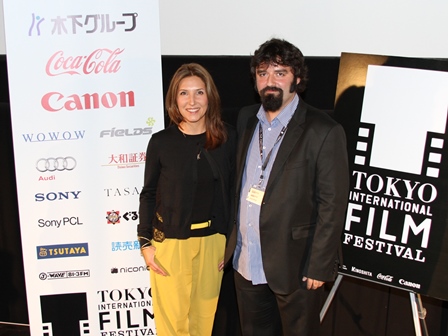 ©2014 TIFF

In Kristina Grozeva and Peter Valchanov's tense drama The Lesson, hardworking teacher Nadezhda (Margita Gosheva) becomes increasingly desperate as she faces a spiraling set of financial challenges that threaten to result in her family's homelessness. She cannot rely on her alcoholic layabout of a husband — who has prompted the crisis — and she's too proud to ask for help from her well-to-do father, who has married a prostitute shortly after her mother's death. Within the space of a week, the foundations of Nade's world crumble completely, and she finds herself navigating the very minefield of moral choices that she has been attempting to guide her students through.

A beautifully wrought, unsentimental examination of the impact of today's economic pressures, of crippling bureaucracy and of cultural and personal corruption, it marks the first feature film for codirectors Kristina Grozeva and Peter Valchanov, as well as the first-ever Bulgarian feature invited to TIFF's Competition Section.

In a politically charged press conference following a TIFF screening, Valchanov and star Margita Gosheva revealed just how fearless an act of creation filmmaking can be. "Only three to four films are produced each year in Bulgaria [with government funding]," explained the director, "But of course, our film was not produced through this system. The Bulgarian National Film Center cut us twice [from consideration], so we took the brave decision to shoot with the support of our actress and crew, who are our friends. We did it with no money, but a lot of heart. During the rough cut process, we were very fortunate to find post-production money from Greece."

Queried about how accurately the film reflects the transformations taking place in Bulgaria after the fall of communism, Valchanov said that although there are many surface changes in the society, "We now understand that there's no change [after communism]. The same people are leading us, and this film is showing that the small persons are pressed into the corner and don't have the right choices. One option is to stay like this; the other is to act, to change something, which is what the teacher does."

Gosheva interjected, "For me, the most dramatic change is the changing of morals and the loss of [certain cultural values.] We must be very careful to take care that we don't lose our souls, as well."

Suggesting that society's shifting values are putting additional pressures on artists, she said, "I work mostly in the theater, and there was actually a recent newspaper headline saying that the theaters should be closed."

The film is based on a true story, and prompted by the tabloid headlines "Teacher Robs Bank!!" Said Gosheva, "I saw an interview with this teacher on television. She was so calm and educated. You could see her pride and she was behaving perfectly. I thought it was amazing what she must have been hiding behind her mask, and for me, it was a challenge to solve the riddle of what was behind that mask. We tried to imagine how it all happened."

As Nade grapples with her ethical quandary, her struggle echoes the lessons in her classroom (as well as the texts of the English books the students read aloud). One of her pupils has been stealing money from his classmates and she attempts to identify the thief so as to "teach him a good lesson," to persuade him that there is always a punishment to fit the crime. "Confess your mistake," she tells the class. "It's noble and makes you less guilty."

The contradictions are clear, yet the filmmakers were careful to avoid a black-and-white depiction of Nade's own desperate act. "We didn't want to give answers at the end of the film, to say whether she is a good person or bad person," said Gosheva. "We think the guilt in this woman lies in the fact that she's made her own choices. She is guilty because she chose to do it the hard way. Instead of taking the money from her father, she chose to do it another way."

The Bulgarian government has taken notice of The Lesson's journey through the festival circuit, where it is winning critical acclaim and awards. Perhaps the impact of this accomplished work, as well as a committed push by younger filmmakers, will finally make a difference in the country: This year, the Film Center is considering eight projects.