2014.04.15
[Updates]
【 Call for Entry 】Submit your film to the 27th TIFF TOKYO!
*Submission films for 2014 Tokyo International Film Festival has been closed in July 15th.

---
Film submissions for the Competition section of 27th Tokyo International Film Festival is now ready on the festival website!
Submission period: April 15-July 15, 2014
As one of the biggest film festivals in Asia – TIFF Competition has been showing many outstanding films created by up-and-coming directors as well as premieres of works by prestigious filmmakers of the world.
Last year, we were honored to receive 1,463 films from 93 countries and regions. 15 excellent films were screened after the pre-selection and "
We Are the Best!
" (Sweden) directed by Lucas Moodysson won the Tokyo Sakura Grand Prix for the last year's TIFF.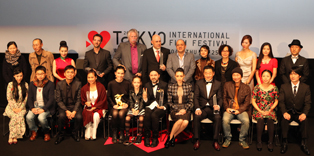 ©2013 TIFF

TIFF looks forward to even a larger number of submissions from around the world.